– Allison Tice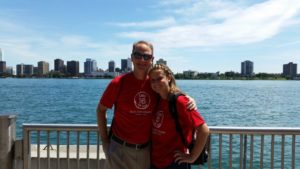 As I walked through the streets of Detroit to Ford Field one evening, I witnessed disciples that covered the streets with hope, grace, and love. That evening, I saw a man that was part of the Gathering give his leftovers to a homeless man. It was one of the most moving moments I saw unfold. I witnessed the tears and love shared between the two. Witnessing the simple gesture of sharing a meal and being Christ-like to one another showed me that even the smallest of gifts to others made the biggest impact. I quickly realized that the Gathering needed me, and needed us to show that we aren't there to "fix" them or "fix" their city, but to walk in servanthood together.
It was then I could answer, "Why the Youth Gathering?" In that moment, I realized why we were there: to build bridges, to show love, and to be the hands and feet of Jesus.
It was hard for me to grasp the idea that the service projects we would be doing were not monumental, yet they made the greatest impact in Detroit. Through my service project, I helped a local community garden begin planting for the upcoming season. I knew that even through pulling weeds and shoveling dirt, this meant the world to the community in which we were helping. While we were working, it began to rain. In that moment, I could choose to be angry that it was raining… or I could rejoice. I simply chose to remember that I am a called and baptized Child of God. I saw this as God "showering" us with grace and never-ending love.
Why the Youth Gathering? To simply be. Be the church, be the light, and be like Jesus with and among God's people.