It has been 3 weeks since the murder of George Floyd in Minneapolis, the city in which I call home. Unfortunately, the senseless killings perpetuated from racism are not uncommon. The outcry for justice, though, has been very common across the United States and countries throughout the world.
The George Floyd memorial on 38th and Chicago in Minneapolis is holy ground where people gather. Gather to pay their respects, gather to lay down flowers, gather with advocacy organizations and gather around food and water. The words and artwork are a balm for the wounds that I, a white woman, cannot even begin to imagine.
The past couple weeks, I have spent time volunteering at Holy Trinity Lutheran Church just blocks from the epicenter. Since George Floyd's murder, Holy Trinity has become a sanctuary for demonstrators, a medic station for the wounded, a place of support for local small businesses and a pop-up food and necessity distribution site. Streets have been lined with cars with donations and greeters. Pregnant women and people with disabilities were accompanied, to ensure their needs were met. I heard so many touching stories over the week. One of them that stood out, especially as a youth minister, is the confirmation students who purchased detergent and collected all the quarters they could find, so people could still do their laundry.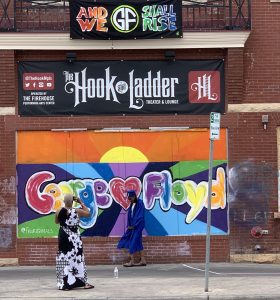 Something else that stuck out to me is seeing a mother taking pictures of her daughter in her cap and gown. I went over and started talking to her and she said, "this is her history." I pray for this young woman and her family. I also pray for our community, our country. I pray that this moment and these pictures are the time that she can tell her children and grandchildren that this was the turning point in our history. "God has told you, O mortal, what is good; and what does the Lord require of you, but to do justice, and to love mercy, and to walk humbly with your God?" (Micah 6:8).
Kris Bjorke serves as the Service Learning Project Manager for the 2021 ELCA Youth Gathering. She lives in the Minneapolis area and enjoys drinking coffee with friends, being with family and pets, the outdoors, football and hockey games, travel (with a special affinity for National Parks) and quilting.