by: Rev. Daniel Locke
For years, on the dashboard of my first car, sat a green and blue hacky sack. It looked like a small globe. It was well worn and faded by sunlight. This hacky-sack was a reminder of one of the most powerful experiences of my life – the 2003 ELCA Youth Gathering in Atlanta. GA.
When I first met the Gathering in 2003 ("Ubuntu: Do Life"), I was overwhelmed – not only by the immensity of the Gathering – but by life as well. For starters, I was an awkward, too-often-bullied high school band geek, who also kept the bench warm for two varsity sports teams. I was a thespian and a boy scout. And if that wasn't enough, my dad was commuting long-distance to seminary, my mom was fighting cancer, and my only sibling was attending college. I was wrestling with my identity, longing to find my place and voice in life, and, most of all, I blamed God for it all.
So, I attended the 2003 Gathering with what I consider to be a reasonable amount of skepticism and disdain for faith, as well as a greenish-blue hacky sack. Every spare moment prompted a game of hacky sack, inviting anyone to join. As the circle grew so did my opportunity to meet my peers from around the world – who were also longing to figure out who they were.
It's been almost two decades since I attended that Gathering and I am still processing the impact of that experience. The more I reflect, the clearer it becomes that the Gathering had such a positive, long-lasting effect not only on my faith formation and relationship with God, but on my understanding of the Church as well.
Obviously, one week in Atlanta did not resolve my struggles. It is 16 years later and I still wrestle. But now I wrestle with confidence and hope. The Gathering invited me into a safe space to wrestle with my identity, not only in Christ but my place in the world as well. It taught me that I am not alone. I left the Gathering with an overwhelming appreciation for the size of the church and my place in it. Lastly, and most of all, the Gathering taught me about the beauty of God's unconditional grace; for I am named, claimed, blessed, and sealed, and there is no amount of wandering, waiting, or wrestling that can change truth.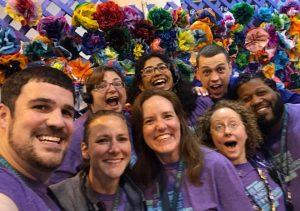 The Rev. Daniel Locke lives in Jacksonville, FL with his wife, the Rev. Sarah Locke, and their 1-year-old son, Bennet. Daniel serves the people of St. Mark's Lutheran Church. In 2018, Daniel served the Gathering as the Technical Manager for the Interactive Learning Center. He is excited to serve the Gathering's Interactive Learning team once again in 2021.