Today's post is from Jennifer Baker-Trinity, Program Director for Resource Development at ELCA Worship and Augsburg Fortress.
When I was a young teenager, my father gave me a book by Eleanor Roosevelt, the classic, You Learn by Living. To be honest, I don't remember much about it; I'm not sure if I read many pages. It certainly didn't have the same attraction as the popular teen novels I read for fun or even my school reading. Yet almost forty years later, I still remember receiving it. This action of receiving leads me to ask questions about it as an adult I could not entertain as a teenager.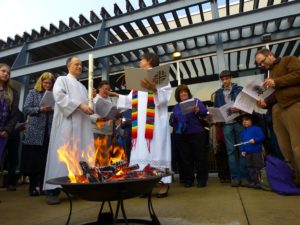 As someone charged to care for the church's worship and the resources we develop, I have never doubted that it is by doing these things, by living and experiencing our faith around font table, that we learn most deeply. As Gail Ramshaw remarks in The Three-Day Feast, "If we hope to rear our children as Christians, we cannot only talk to them of Christ. We need to find ways for them to join with us to enact the meaning of Christ." It is in this joining, even as children, that we learn the faith. We live into the mystery, growing into an appreciation and understanding perhaps years after first seeds were planted.
This focus on "learning by living" is why I am especially looking forward to the event, "Worship at the Center: Journey from Ash Wednesday to Easter." At this experiential learning event, those who attend will not only hear words about the services of Holy Week, but experience worship services for Ash Wednesday, Maundy Thursday, Good Friday, and the great Vigil of Easter. In the doing, you will gain insights and new ideas to take home that you might not receive from just hearing about them.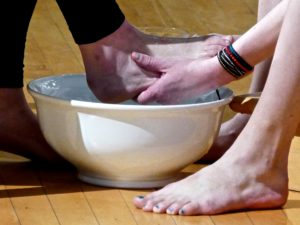 For three days, participants will learn in full group settings and in smaller break-out sessions. We trust this will be helpful and beneficial. But equally so will be the opportunity to be marked with the ashen cross, to wash feet and have feet washed, to pray at the cross, to gather around the light of Christ, to be renewed in our baptismal promises and to eat and drink at the Lord's table. In the doing of these services, we learn in our very bodies the centrality of Christ as crucified and risen one, the one in whom we "live and move and have our being" (Acts 17:28).
Pastors, deacons, musicians, seminarians, worship planning teams: all would benefit from this "learn by living" event. Consider coming as a congregational team so that through this shared experience, you'll go back to your congregations with new energy for planting seeds and watching them grow into a new or renewed practice. Registration is now open online for events in Winter Park, FL and Austin, TX. I look forward to joining you in January or February!
Peace in Christ,
Jennifer Baker-Trinity