Lutheran Disaster Response

Our response to disasters in the U.S. and around the world; look for sections of this blog related to specific disaster locations. Comments are welcomed and moderated.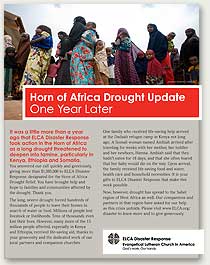 During the summer of last year major drought spread throughout the Horn of Africa, affecting countries like Kenya, Ethiopia and Somalia. From the onset the ELCA has been helping in the response, providing cups of water and food to arriving refugees, working with communities to stave off illness and helping local populations leverage their knowledge to better prepare themselves for further disasters. This work has been made possible thanks to generous gifts from people like you.
As a way of marking this occassion and to help share about the good work we as this church are engaged in we share with you the following two Horn of Africa: One Year Later resources:
——
Gifts to ELCA Disaster Response allow the church to respond locally and globally in times of need. Donate Now